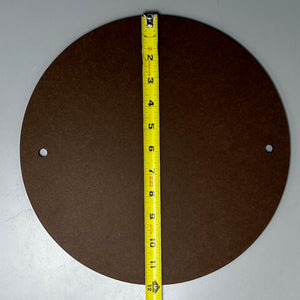 Made from hard masonite and cut with a CO2 laser system, these bats will last many years for pottery production.  1/4" thick by 12" diameter.  
LoriAnn Owen, of Etched Earth Designs, LLC., has been making pottery bats for Ben and other potters for the last couple of years with a CO2 laser machine.  They are very precise in size and fitting standard bat pins on a 10" center wheel head.  An assortment of sizes are available.  
LoriAnn will be happy to custom make any size you may need and without bat pin holes.  They can be made for other bat pin configuration or shapes.  Email loriann@etchedearthdesigns.com if you want to special order.